Water Features Look as New as the Day They Were Installed
Park guests never want the fun to end. And you certainly don't want to shut an area or ride down for problems and maintenance.
Keep It New™ Maintenance involves interior and exterior recoating services to revive worn, damaged and faded surfaces back to their original luster. With nearly 200 colors available, you can match your existing color scheme or go for a completely new look.
Keep It New applies to slide towers, stairs, decking material… you name it. Even if Splashtacular® didn't manufacture your structures, slides and units, our skilled maintenance and repair team cleans or replaces damaged steel components, decking, treads, rusted stairways, landings, platforms and hardware.
Maintenance & Repair Services
Keep It New Maintenance isn't a one size fits all service. Talk to our team about your park's needs and goals. We'll tailor services to match your water features' age, use, location and more on a one-time basis or as part of a regular maintenance program.
Site Visit & Visual Inspection of Slide and Tower

Waterslide Restoration

Aquatic Play Unit and Spray Feature Restoration

Waterslide Tower, Decking, Tread & Steel Rehab

Interior Slide Surface Waxing & Buffing

Cleaning of the Exterior of Slides

Repair of Minor Scratches, Chips or Blemishes

Caulking of Slide Joints

Interior Resurfacing

Platform, Decking and Stairway Replacement

Replacement Canopy Fabrics & Frames

Pool Bottom Pads

Specialized Training for Aquatic Staff

Annual, Bi-Annual and Multi-Year Contracts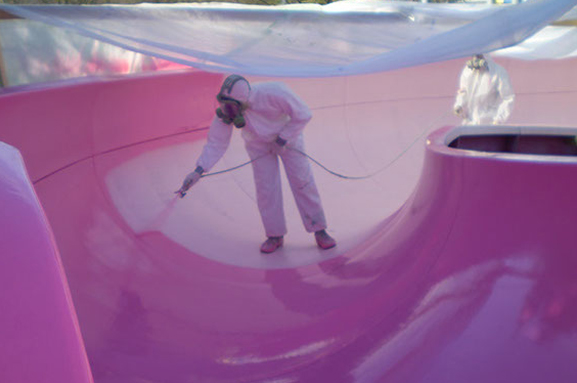 Time for Minor Repairs?
Maybe it isn't time for your slide to be recoated or resurfaced, but minor repairs are still needed. Contact us about your damaged slide components, chips and crack repair.
Resurfacing
Fiberglass & Gelcoat Repair
Steel & Decking Repair
Aquatic Play Unit Repair